Royal Pains Season 1 Episode 12: "Wonderland" Photos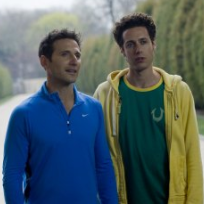 Added:
Displaying 1 photo
Around the Web
Want more Royal Pains?
Sign up for our daily newsletter and receive the latest tv news delivered to your inbox for free!
Zoey: My sister's a little off-center sometimes.
Hank: Oh, I know how you feel. My brother couldn't find the center with a GPS Device.
Evan: Why don't you just summon the apparitions?
Divya: Okay, why are you asking me?
Evan: Because you're Indian. Maybe some of the rituals translate, right?
Divya: Wait a second. You think that Hinduism and Wicca are overlapping ideologies?
Evan: I'm just thinkin' outside the box.
Divya: You're a bloody neanderthal.