Scandal Season 1 Episode 5: "Crash and Burn" Photos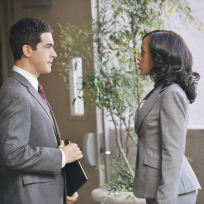 Added:
Displaying 1 photo
Around the Web
Want more Scandal?
Sign up for our daily newsletter and receive the latest tv news delivered to your inbox for free!
There isn't a person in this building who isn't willing to go to extremes for you.

First Lady
David: So, who do you think killed her? See, I've got this nagging feeling you've got a pretty good idea. I know I give you a long leash on a lot of things and I like to because, despite my better judgment and all my protests to the contrary, I really do consider you a friend. But I can't look the other way here, not on this...I prosecute crime. I get the bad guys. So at some point, even with you I gotta draw the line. I've gotta do my job. I've gotta be the sheriff.
Olivia: The white hat looks good on you.