Scrubs Season 9 Episode 12: "Our Driving Issues" Photos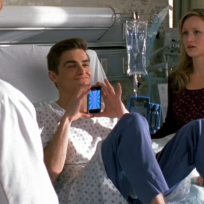 Added:
Displaying 1 photo
Around the Web
Want more Scrubs?
Sign up for our daily newsletter and receive the latest tv news delivered to your inbox for free!
That's exactly what Trang needed. Driving back and forth in the parking lot, reinforcing every stereotype of Asian drivers.

Denise
Dr. Cox: Hey talking man baby, come here. I am parked in the ten minute parking zone.
Trang: You want me to move your car?
Dr. Cox: No, I love the space. What I want you to do is pull out of and then back into the space every ten minutes. If you get bored, here's a deck of cards and a ball.