TV Fanatic Works Better with Prime Instant Video
40,000 other titles are available to watch now.
Seinfeld Season 1 Episode 4: "Male Unbonding" Photos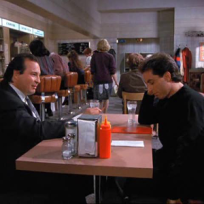 Added:
Displaying 1 photo
Around the Web
Want more Seinfeld?
Sign up for our daily newsletter and receive the latest tv news delivered to your inbox for free!
Elaine: Come on. Let's go do something. I don't want to just sit around here. Wanna get something to eat?
Jerry: Where?
Elaine: I don't care. I'm not hungry.
Jerry: We could go to one of those cappuccino places. They let you just sit there.
Elaine: What are we gonna do there, talk?
Jerry: We can talk.
Elaine: I'll go if I don't have to talk.
Jerry: Then we'll just sit there.
I do not like the bank. I've heard the expression "Laughing all the way to the bank." I have never seen anyone actually doing it. And those bank lines. I hate it when there's nobody on the line at all, you know that part, you go to the bank, it's empty and you still have to go through the little maze. "Can you get a little piece of cheese for me? I'm almost at the front. I'd like a reward for this please."

Jerry