Seinfeld Season 2 Episode 12: "The Busboy" Photos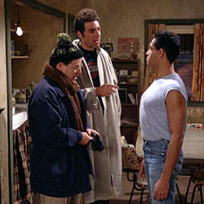 Added:
Displaying 1 photo
Around the Web
Want more Seinfeld?
Sign up for our daily newsletter and receive the latest tv news delivered to your inbox for free!
Jerry: Anywhere in the city?
George: Anywhere in the city - I'll tell you the best public toilet.
Jerry: Okay Fifty-fourth and Sixth?
George: Sperry Rand Building. 14th floor, Morgan Apparel. Mention my name - she'll give you the key.
Jerry: Alright Sixty-fifth and Tenth.
George: (Scoffs) Are you kidding? Lincoln Center. Alice Tully Hall, the Met. Magnificent facilities.
Cats run away all the time. You know, my aunt, she had a cat. Ran away. Showed up three years later. You never know. They've got things in their brains where they remember where they're from. Unless, of course, somebody else starts feeding him. See, that's what you've gotta worry about.

Kramer