Seinfeld Season 4 Episode 3: "The Pitch" Photos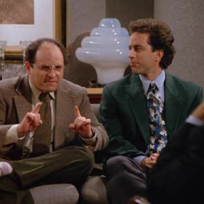 Added:
Displaying 1 photo
Around the Web
Want more Seinfeld?
Sign up for our daily newsletter and receive the latest tv news delivered to your inbox for free!
George: Why don't they have salsa on the table?
Jerry: What do you need salsa for?
George: Salsa is now the number one condiment in America.
Jerry: You know why? Because people like to say "salsa." "Excuse me, do you have any salsa?" We need more salsa." "Where's the salsa? No salsa?"
George: You know, it must be impossible for a Spanish person to order seltzer and not get salsa. "I wanted seltzer, not salsa!"
Jerry: "Don't you know the difference between seltzer and salsa?! You have the seltzer after the salsa!"
Newman: I want my helmet back! You give me back my helmet, and you're gonna pay for that ticket!
Kramer: Oh, yeah, yeah. You better think again, Mojambo.