Sex and the City Season 3 Episode 13: "Escape From New York" Photos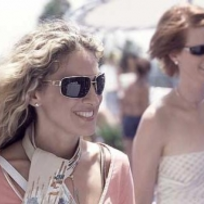 Added:
Displaying 1 photo
Around the Web
Want more Sex and the City?
Sign up for our daily newsletter and receive the latest tv news delivered to your inbox for free!
(holding up the dildo)
Miranda: Wow! Nobody needs this much. You know the average woman is only five inches deep.
Carrie: Is that written on your placemat or something?
Miranda: To me the mark of a fine penis is width.
Samantha: I couldn' t agree with you more.
Charlotte: So how are you?
Carrie: I'm good. How are you?
Charlotte: Great.
Carrie: I told Aidan about the affair and he broke up with me.
Charlotte: Trey and I never had sex on our honeymoon.
Carrie: You win. So. Should we get more coffee or should we get two guns and kill ourselves?