Sex and the City Season 3 Episode 17: "What Goes Around Comes Around" Photos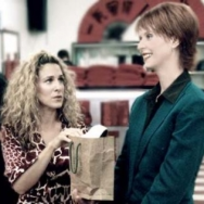 Added:
Displaying 1 photo
Around the Web
Want more Sex and the City?
Sign up for our daily newsletter and receive the latest tv news delivered to your inbox for free!
Miranda: I can't believe he took your shoes!
Carrie: I know, I probably got trichinosis!
Miranda: You only get that from pork.
Carrie: Oh, well, I'm sure I stepped on a piece of it somewhere.
(to Carrie) Yes, I'm sorry about it all. I'm sorry that he moved to Paris and fell in love with me. I'm sorry we ever got married. I'm sorry he cheated on me with you and I'm sorry that I pretended to ignore it for as long as I did. I'm sorry I found you in my apartment, fell down the stairs and broke my tooth. I'm very sorry that after much painful dental surgery, this tooth is still a different color than this tooth. Finally, I'm very sorry that you felt the need to come down here. Now not only have you ruined my marriage, you've ruined my lunch.

Natasha