TV Fanatic Works Better with Prime Instant Video
40,000 other titles are available to watch now.
South Park Season 2 Episode 7: "Fashbacks" Photos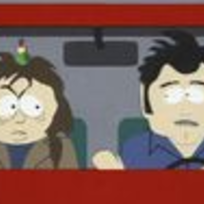 Added:
Displaying 1 photo
Around the Web
Want more South Park?
Sign up for our daily newsletter and receive the latest tv news delivered to your inbox for free!
(all the kids are panicked and making a lot of noise)
Ms. Crabtree: All right! (she opens a box and pulls out a revolver and a rabbit) Everybody shut up or the cute little bunny DIES!!
(everybody shuts up)
Stan: She's always trying to get us to shut up by threatening to kill that bunny, but do you think she ever would?
Kyle: Oh she would dude, she would.
Cartman: Hey, you guys! What if Ms. Crabtree doesn't come back and we're all trapped up here forever!
(The kids all gasp.)
Kyle: We couldn't get trapped up here forever, Cartman; we'd die after a couple of days
(The kids all gasp louder.)
Stan: Dude!
Kyle: What?
Cartman: (scared) I don't wanna die on this bus with you assholes! You guys suck!
Stan: Dude, would you just relax? We've been in a lot worse situations than this, and we've come out of them just fine.
Kyle: Worse than this??
Stan: Oh, sure. Don't you remember the time the alien visitors kidnapped your little brother Ike? Now THAT was scary!