TV Fanatic Works Better with Prime Instant Video
40,000 other titles are available to watch now.
South Park Season 5 Episode 10: "How to Eat with Your Butt" Photos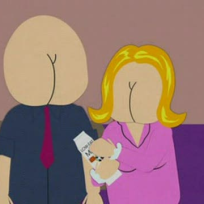 Added:
Displaying 1 photo
Around the Web
Want more South Park?
Sign up for our daily newsletter and receive the latest tv news delivered to your inbox for free!
South Park Milk Company President: Well why don't we let Mrs. Garfunk do her work, and I'll take you out for some good ole' Colorado chili.
Stephen Thompson: We don't really like chili, it makes us throw up.
(Cartman is in the movies after losing his sense of humor)
Guy 1: Dude, why are you wearing Shilaynas' panties?
(Crowd laughs)
Guy 2: I had to wear Shilaynas' panties, Lisa's were in the wash.
(Crowd Laughs)
Guy 1: Look can we just get this over with?
Guy 2: But dude I can't french kiss him, he's my Grandpa.
(Crowd laughs)
Guy 1: Come on dude.
Guy 2: Oh alright here it goes, come here Grandpa
(Crowd laughs and cheers except for Cartman)
Cartman: Aw, dude! Bah.
Audience member: Dude, what's wrong with you?
Cartman: Nothing's wrong with me!
Guy 2: Well I'm glad that's over with. We better go back to the house now to see how Chris is doing.
Cartman: Ahahahaha.......haha...Uh.