South Park Season 3 Episode 3: "The Succubus" Photos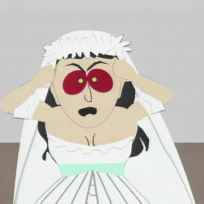 Added:
Displaying 1 photo
Around the Web
Want more South Park?
Sign up for our daily newsletter and receive the latest tv news delivered to your inbox for free!
Stan: We can't fall asleep. We gotta nail that song. You got the tape recorder, Cartman? Cartman?? (taps him)
Kyle: He's asleep. Wake up fat ass!
Cartman: What what what?
Stan: Goddamnit! You can't fall asleep.
Cartman: I wasn't sleeping, I was just thinking really hard!
Cartman: Hey dudes.
(Kyle, Stan and Kenny laugh)
Cartman: (Sarcastically) Heheheh, look at Cartman and his stupid glasses. Heheheh.
Kyle: Dude, just take them off.
Cartman: I can't, they're stapled to my head.
(Kyle, Stan and Kenny laugh again)
Cartman: I hate you guys.