The Big Bang Theory Season 6 Episode 21: "The Closure Alternative" Photos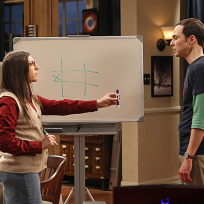 Added:
Displaying 1 photo
Around the Web
Want more The Big Bang Theory?
Sign up for our daily newsletter and receive the latest tv news delivered to your inbox for free!
They can't just cancel a show like Alphas. You know? They have to help the viewers let go. Firefly did a movie to wrap things up. Buffy the Vampire Slayer continued on as a comic book. Heroes gradually lowered the quality season by season till we were grateful it ended.

Sheldon
Sheldon: Why would the Chinese make our DVR record Paul Blart: Mall Cop?
Leonard: I don't know. It's a fat guy on a Segway. That's funny everywhere.