The Office Season 7 Episode 2: "Counseling" Photos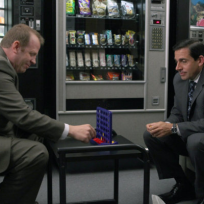 Added:
Displaying 1 photo
Around the Web
Want more The Office?
Sign up for our daily newsletter and receive the latest tv news delivered to your inbox for free!
Dwight: I see you found our magical toy box Jim.
Jim: These are actually forks and knives from the break room.
Dwight: Jim (laughs), to you and me maybe, but come on. To a child's imagination, that's Mr. Fork and Lieutenant Knife...and Miss Fork.
Now that I own the building I've been looking for new sources of revenue...and a daycare center? Woohahahaha. Well I guess it's not an evil idea, it's just a regular idea, but there's no good laugh for a regular idea.

Dwight