The Office Season 6 Episode 8: "Koi Pond" Photos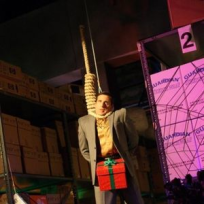 Added:
Displaying 1 photo
Around the Web
Want more The Office?
Sign up for our daily newsletter and receive the latest tv news delivered to your inbox for free!
Jim is my enemy. But it turns out that Jim is also his own worst enemy. And the enemy of my enemy is my friend. So Jim, is actually my friend. But, because he is his own worst enemy, the enemy of my friend is my enemy so actually Jim is my enemy. But-

Dwight
Pam: You were way meaner to me than I was to you.
Andy: No I wasn't, okay? The very idea of us together made you burst out laughing like you just bit into an Adam Sandler jelly sandwich.