TV Fanatic Works Better with Prime Instant Video
40,000 other titles are available to watch now.
The Office Season 6 Episode 3: "The Promotion" Photos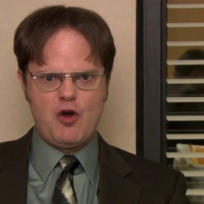 Added:
Displaying 1 photo
Around the Web
Want more The Office?
Sign up for our daily newsletter and receive the latest tv news delivered to your inbox for free!
Look it doesn't take a genius to know that every organization thrives when it has two leaders. [shakes head] Go ahead, name a country that doesn't have two presidents. A boat that sets sail without two captains. Where would Catholicism be, without the popes.

Oscar
Jim: Yesterday, we had a meeting about planets.
Michael: Mmm. Well to be fair, Jim... James. Jimothy? [Jim nods] To be fair, Jimothy, ah that sounds weird. Are you okay with being called Jim?
Jim: I am.
Michael: Alright. Jim, to be fair, the conversation wasn't about planets. At first we were talking about introducing a line of toilet paper. And what part of the human body does one use toilet paper upon? So you draw a line from there to the other planets... and I think by the end we learned a little bit about how small we are.
Jim: Yes, I agree, and-
Michael: Because it's a big universe and we're all just little tiny specks, of dust.