The Simpsons Season 1 Episode 5: "Bart the General" Photos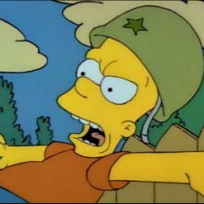 Added:
Displaying 1 photo
Around the Web
Want more The Simpsons?
Sign up for our daily newsletter and receive the latest tv news delivered to your inbox for free!
Armistice treaty, article four. "Nelson is never again to raise his fists in anger." Article five. "Nelson recognizes Bart's right to exist." Article six. "Although Nelson shall have no official power, he shall remain a figurehead of menace in the neighborhood."

Herman
Bart: Okay, we all know why we're here, right?
Milhouse: No, why?
Bart: To fight Nelson, the bully. That guy has been tormenting all of us for years, and I for one am sick of it! I can't promise you victory. I can't promise you good times. But the one thing I do know--
(All the boys file out.)
Bart: Whoa! Whoa! I promise you victory! I promise you good times!