TV Fanatic Works Better with Prime Instant Video
40,000 other titles are available to watch now.
The Simpsons Season 2 Episode 22: "Blood Feud" Photos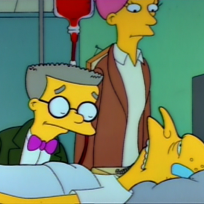 Added:
Displaying 1 photo
Around the Web
Want more The Simpsons?
Sign up for our daily newsletter and receive the latest tv news delivered to your inbox for free!
(Bart prank calls Moe's Tavern.)
Moe: Moe's Tavern, where the elite meet to drink.
Bart: Uh, hello. Is Mike there? Last name, Rotch.
Moe: Hold on, I'll check. (Calls out) Mike Rotch! Mike Rotch! Hey, has anybody seen Mike Rotch lately?
(Everyone snickers)
Moe: (to Bart) Listen to me, you little puke. One of these days, I'm going to catch you and I'm going to carve my name on your back with an ice pick.
Homer: Bart, you keep an eye out for the mailman. Just give me some kind of signal.
Bart: Dad, the mailman's here.
Homer: That's a good one. We'll use that.
(A postwoman appears behind Homer)
Bart: No! I mean the mailman's here.
(Homer screams)
Postwoman: Dear God! Are you planning to water the mail?
Homer: I guess it wouldn't do any good to run 'cause you're a mail-lady and you know my name and address and everything, huh?
Postwoman: That's right.
Homer: Well... I'm still going to run.
(Homer runs away)