TV Fanatic Works Better with Prime Instant Video
40,000 other titles are available to watch now.
The Simpsons Season 19 Episode 8: "Funeral for a Fiend" Photos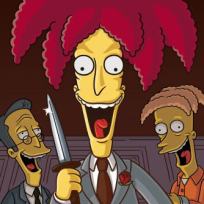 Added:
Displaying 1 photo
Around the Web
Want more The Simpsons?
Sign up for our daily newsletter and receive the latest tv news delivered to your inbox for free!
Sideshow Bob: Before you die, perhaps you'd like to know how I engineered my ultimate revenge.
Homer: I'd like to know if Wes Doobner is aware of what you're doing in his restaurant!
Sideshow Bob: I'm Wes Doobner!
Homer: Mr. Doobner, I have a complaint: I work hard and when I go out with my family I expect a certain level of basic--
Sideshow Bob: Shut up!
Sideshow Bob: Let's not tarry. As Shakespeare said, "If it were done when 'tis done, then 'twere best it were done quickly." Power on!(turns on the laptop and laughs maniacally) This time I've made no mistakes.
Lisa: Actually, you made one. What Shakespeare really said was, "'Twere well it were done quickly."
Sideshow Bob: Yes, I'm sure you've studied the immortal bard extensively under your "Miss Hoover." (leaves and shuts the door)
Lisa: Macbeth, act one, scene seven. Look it up.
Sideshow Bob: (re-enters) I shall! (takes the laptop) Come on, Wikipedia. Load, you unwieldy behemoth! laptop explodes Oh, dear. Sideshow Bob, "Hoist on his own petard."
Lisa: It's "hoist with his own petard."
Sideshow Bob: Oh, get a life.