The Simpsons Season 4 Episode 17: "Last Exit to Springfield" Photos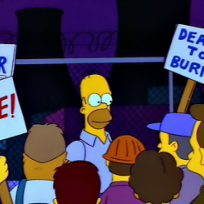 Added:
Displaying 1 photo
Around the Web
Want more The Simpsons?
Sign up for our daily newsletter and receive the latest tv news delivered to your inbox for free!
Boy: You can't treat the working man this way. One day we'll form a union and get the fair and equittable treatment we deserve. Then we'll go too far, and get corrupt and shiftless and the Japanese will eat us alive!
Mr. Burns' Grandfather: The Japanese!? Those sandal-wearing goldfish tenders? Bosh! Flimshaw!
Years Later
Mr. Burns: If only we'd listened to that boy, instead of walling him up in the abandoned coke oven.
Kent Brockman: Tonight on Smartline, the power plant strike, Arglebargle or Fufferella. With us tonight our plant owner C.M. Burns, Union Kingpin Homer Simpson, and talk show mainstay Dr. Joyce Brothers.
Dr. Joyce: I brought my own mic!