TV Fanatic Works Better with Prime Instant Video
40,000 other titles are available to watch now.
The Simpsons Season 19 Episode 6: "Little Orphan Millie" Photos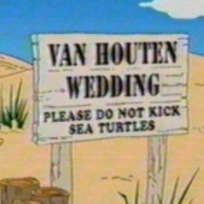 Added:
Displaying 1 photo
Around the Web
Want more The Simpsons?
Sign up for our daily newsletter and receive the latest tv news delivered to your inbox for free!
Kirk: Uh, attention, everyone. Uh, Luann and I have some big news.
Bart: Is it that you're brother and sister? Because you really look a lot alike.
Kirk: No.
Bart: Half-brother and half-sister?
Kirk: No!
Bart: Siamese twins who've been surgically separated?
Luann: No! We're getting remarried.
(Milhouse's parents are lost at sea.)
Homer: Here Milhouse, why don't you cheer up with a glass of Ocean Spray. (catches himself) Oh, boy. Forget that. How about some Cap'n Crunch? (catches himself) Seven Seas Italian Dressing? Oh, no, no, no. Uhh... Chicken of the Sea tuna? Ahh. Billy Ocean CD? The History of Atlantic Records?
Marge: Stop naming things!
Homer: I want to, but I can't.
Marge: Then go to Moe's.
Homer: Good idea. I'll drown my sorrows in Anchor Steam Beer. (Looks at Milhouse) Oh ho ho I'm sorry. (Covers his mouth and leaves)