TV Fanatic Works Better with Prime Instant Video
Try it Now for Free and Instantly Watch Two and a Half Men.
Two and a Half Men Season 7 Episode 16: "Tinkle Like a Princess" Photos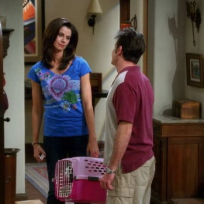 Added:
Displaying 1 photo
Around the Web
Want more Two and a Half Men?
Sign up for our daily newsletter and receive the latest tv news delivered to your inbox for free!
Berta: Damnit Charlie, get out of that water!
Alan: We need to go after him.
Berta: Don't look at me! I just ate, I gotta wait a half an hour.
Alan: Well I just took a shower and washed my hair, this is leave in conditioner.
Berta: What about Jake?
Alan: Jake's at this mother's.
Berta: Maybe we should give him a call.
Alan: There's no time!
Charlie [comes back soaking]: Water's really cold.
Alan: Just so you know we were about to come get you.
Berta: Where you going?
Charlie: Out for a swim
Alan: You never go in the water.
Charlie: That's because I'm not a good swimmer.
Alan: You don't think he's gonna?
Berta: I dunno?
Alan: Charlie, stop this!
Berta: Charlie! Come back it's not that bad!
Alan: Come on, Charlie! You still have your family!
Berta: Very smart, now he's sprinting.