Salt In The Wound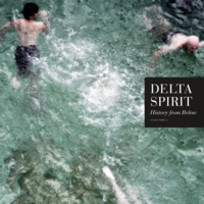 As Heard On:
Salt In The Wound Lyrics
I want to disappear
Far from the folks I know.
I want to get an answer
for why I was even born.

No one here can tell me
what's been haunting me all my life.
This rat race has left me limping
as I balanced on the edge of a knife

Why am I here?
Oh, what should I do?
Well, this is the point I'm trying to prove.

If there is a God in my head,
then there's a devil too.
How can I tell the difference,
when they both claim to be true?

Maybe, God is God.
Maybe, the devil is me.
Well, I'll just throw my chains on
and tell myself that I'm free.

Are they really there?
Is this in my head?

[ From: http://www.metrolyrics.com/salt-in-the-wound-lyrics-delta-spirit.html ]

I'll just stay in bed.

Life sure has its meaning.
Over years, I have bolstered the sun.
These impreachers rob me
for many heads that I've hung.

Now with my heart wide open
I listen to the wind just for a word
Sure, I know its futile
but that's all I have in thins world

To look
Down from the hill and howl
at a moon
all the tears I've cried
never salted anything.

Well the earth
is so tender
and cruel
well if you're not there
its still so beautiful.
****** Listen on
iTunes
******
Did you say it? 'I love you. I don't ever want to live without you. You changed my life.' Did you say it? Make a plan. Set a goal. Work toward it, but every now and then, look around; Drink it in 'cause this is it. It might all be gone tomorrow."

Meredith (closing voiceover)
Lexie: [narrating] Grief may be a thing we all have in common, but it looks different on everyone.
Mark: It isn't just death we have to grieve. It's life. It's loss. It's change.
Alex: And when we wonder why it has to suck so much sometimes, has to hurt so bad. The thing we gotta try to remember is that it can turn on a dime.
Izzie: That's how you stay alive. When it hurts so much you can't breathe, that's how you survive.
Derek: By remembering that one day, somehow, impossibly, you won't feel this way. It won't hurt this much.
Bailey: Grief comes in its own time for everyone, in its own way.
Owen: So the best we can do, the best anyone can do, is try for honesty.
Meredith: The really crappy thing, the very worst part of grief is that you can't control it.
Arizona: The best we can do is try to let ourselves feel it when it comes.
Callie: And let it go when we can.
Meredith: The very worst part is that the minute you think you're past it, it starts all over again.
Cristina: And always, every time, it takes your breath away.
Meredith: There are five stages of grief. They look different on all of us, but there are always five.
Alex: Denial.
Derek: Anger.
Bailey: Bargaining.
Lexie: Depression.
Richard: Acceptance.