Ned Stark Costume
Product Description
Long live Ned Stark!
This Game of Thrones costume brings the character back to life, thanks to a cape and cloak combination that includes detachable fake fur and a top piece with two panther clasps.
One size should fit all adults.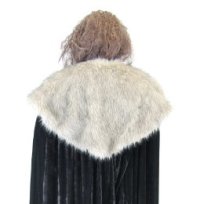 $64.95
Show:

Color:

Black

Brand:

Costume Agent
Tyrion: Let me give you some advice bastard. Never forget what you are. The rest of the world will not. Wear it like armor, and it can never be used to hurt you.
Jon: What the hell do you know about being a bastard?
Tyrion: All dwarfs are bastards in their father's eyes.
Nothing isn't better or worse than anything. Nothing is just nothing.

Arya