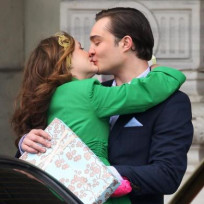 beckylovesGG1596
my name is becky, i love chuck bass and blair waldorf. as a couple as well as just their characters I live in New Orleans, LA with my mom and my dad and my sister and brother. i live a pretty normal life. Gossip Girl is my favorite show. I want to move to New York .... and not just because i can see GG being filmed but i want to go to Julliard. partly because I'll be 1000's of miles away from my parents and i just love GG so much. i love all the characters except for Jenny, shes just annoying. 
Member Since:
7 Forum Posts
thats gonna be awkward when he and leighton are shooting a super hot make-up sex scene!
i think it should remain the six main characters.
Chuck and Blair are so cute in this scene!!!!