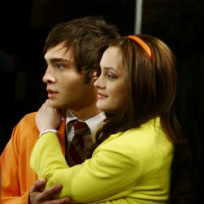 Chair 4eva
Heyy people I'm a huge fan of Gossip Girl, as i'm sure you all are too. One thing that I must say though, I HATE!!!!!!!!!!! Vanessa, Georgina and Jenny. I don't like Vanessa because she's just always in the way with everything, I hate Georgina because she is just a b!tch, and I hate Jenny because she is just so full of herself, and she is also a b!tch! I love the rest of the characters though!. Ed Westwick and Chace Crawford rock, and Blake Lively is amazing, but Serena is a bit stupid! Oh, and when are they going to bring back Jack Bass, i think he's great too, lol. XD One other thing that I must say is that Tripp Vanderbilt is a total d!ckh head. XOXO
Member Since:
32 Forum Posts
how the hell does that look like Chuck??? lol
Bart was probably murderd by someone. I don't know about Jack but it could be him because he was so eager to get the company.
probably Carter, because he knows stuff about Serena
Want more ?
Sign up for our daily newsletter and receive the latest tv news delivered to your inbox for free!