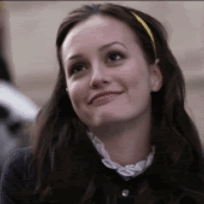 magda wants chair endgame!
i'd give anything to be blair w. i'm totally in love with chuck bass and i want CHAIR.<3 i'm from poland, my name's magdalena. i'm really bored, i'm still looking for some hobby to do, so i watch movies and series all days long... apart of GG, i also watch ga, vd, house, bones, hellcats and glee. i'm still looking for a hobby/reason to live/passion, call it whatever you want to. since i haven't found it yet, i'm just waiting for another episodes of my fav shows to air. ; )
Member Since:
1159 Forum Posts
yeah, it was the most out of character thing they ever had on GG
i am not sure i liked him like that.. about b, i  hated her  a little for  being the opposite of independent, intelligent and heading for her happiness girl she' supossed to be.. she's also lost her romantic side, she didnt fight for her love, she could deny what chuck said to louis, but she didnt.. chair dancing was cute and i am not really getting into details about that scene, whether it was ooc or not, cause i just want to stay thinking it was aborable. but the rest of the ep felt weird. also the way they shot the ep, the ridiculous,<imo> editing of the scenes escalated the ooc feeling imo
She represses all the good and happy memories so she can allow herself to operate with her head not her heart.
god. i will probably have to print it and frame it to be my positive attitude reminder through out the summer. <3
i would have never expected him to be one to do a jewish dance
i love that he can even do a dance at barmitzva for her. and he is so happy she's happy, his expression is just...*.*
chuck was different that episode. more calmed down, more sure of their love, didnt fight, cause he knew they already have it, he was only makign sure she's happy
and how can you go off to marry someone else, when youre obviously looking like the happiest peson on the planet in arms of another guy? c'mon blair, you're supossed to be the smart girl.. ;<