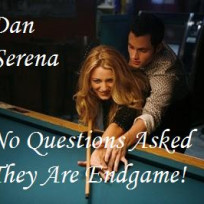 Catriona - derena,chair,delena
Gossip Girl - Derena!!!!!!!!!!!!!! They were togeather in the pilot so they ARE endgame no question But now I dare to dair!!!! The chemistry between the two is undeniable  The Vampire Diaries - Stelena, but I kindof like Delena or Katherine/Stefan Oh I don't know anymore S2 has seriously messed with my head! XD Pretty Little Liars - Enough said :D True Blood - Only watched S1&2 and it is VERY addicting. Read the books before the show, they're quite different but both are good. So excited that they're keeping the Eric/Sookie storyline for S4!!!  
Member Since:
33 Forum Posts
6 years isn't that much, my mum got married at 19 to my dad and there's 8yrs between them.
On another note I didn't realise the age of consent was so high! In the uk its 16 but I do think it is a bit young and while in Scotland you can get married and have sex at 16 but you can't vote - which is very unfair!
How have yous seen part 2 already?!!
I thought it was getting released worldwide on the 15th?
I'm in the Uk and it is released on Friday - I have my seats all booked for Sunday :) (fri and sat were all booked out!)
@DamonSucksMyWorld - where abouts in Denmark do you live? I have visited Esbjerg quite a lot cos I have family there. I love DK and will hopefully next summer go over by myself and explore more of it