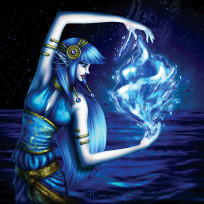 farsia2010
Hi everybody, Have you ever felt like you want to know and see everything that there ever was? that's how i feel all the time, it is weird but it also never let's me stop or give up or get bored. that's why i watch way too many shows for my own good, read too many books and watch too many movies. to whom it may concern:   Shows i used to love: hawaii five-0, NCIS (original not LA), CSI: Miami, Mentalist (sick and tired of Red John)   books: way too many to list   movies: again way too many to list   music: as the mood strikes, i like it all, from classical and opera to oldies to rock and pop. as i said, my head is an interesting place albeit confusing. nice to meet you all.   PS: Favourite shows that are NOT on the list: Boston Legal, The practice 
Member Since:
Favorite Shows
10 Forum Posts
i am so tired of shit happening to Mer, that girl needs a break majorly. how much crap can one girl take and it almost feels like recycling old SLs: Miscarriage - check hormonal complications - check difficult pregnancy - check (with Callie) pregnant attending from hell - check (with Bailey) as for the crap that already happened to Mer over the course of 9 seasons, don't even get me started! (mother from hell with Alzheimer, falling in love and that turning out to be a difficult relationship and then being betrayed, attempted suicide, miscarriage, watching her husband being shot, thinking he died, not being able o have kids, going through adoption, almost loosing her child, plane crash, almost being fired, loosing George, change in her surgical major etc) honestly! give her a break!oh and the whole father debacle, hating him then giving him her liver and being stuck with a sister she didn't want, opening up to her, loving her and loosing her, Alex betraying her.... geese that girl had enough crap to last her ten lifetimes!!
i think it is one of those things that shouldn't be looked at too closely, it's a tv show and they just broke the rules a little to move the plot in the needed direction. or he has the family's cristal since he also has the book.
oh and btw, the correct term is warlock not wizard, that's how they call the male witches in TVD.
Melissa, she is just BLAH, there is nothing to her, she boring and one dimentional.
or Diana she is just annoying with her goodie-two shoes intentions!