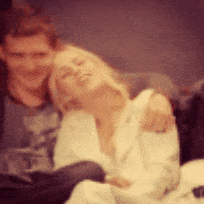 Flora (=liarsunited)
Hello there :) I am Flora~ (the mermaid) current residence: Carolinefornia forum home: TVD other homes: PLL and GG soulmates: coco, sharon n glenna, tri 'n red ships that I sail: haleb, stebekah, klaroline ♥ ships that should drown:ezria tv crushes: caleb rivers, stef salvatore, KLAUS  If you would like a gif icon you can pm me      
Member Since:
Favorite Shows
10980 Forum Posts
So I finally got around to seeing the trailer and I think we should discuss this. 2014 is looking GOOD.
I get to have THIS back in my life:
I am just effing excited. My face right now, at everyone who told me it was a dream:
But most of all let's talk about Logan. LoVe is my OTP and if they don't reunite them then I will flip every table on earth. EVERY TABLE ON EARTH.
finally veronica, queen fucking veronica is back:
It's about damn time my OTP's fucking happen. Kinda like this one
this message was brought to you today by the letter S. As in, SUCK ON THAT. I BET YOU THOUGHT THIS THREAD WAS ABOUT THAT DULL FACE DETECTIVE WHO CAN'T EVEN HOLD A CAMERA TO SAVE HER LIFE. BUT SHE WOULD PROLLY SNAPSHOT THE SHIT OUT OF THIS EPIC FOREST SEX.
HAPPY BIRTHDAY BITCHES.