313 Forum Posts
What to expect in the Season 5 Premiere?
Well Season 4 went off with a quiet Bang! With Blair and Louis off to Monaco, Dan in the Hamptons, Chuck and Nate Vacationing around the world, Serena at Miami WAIT ISNT THAT WHERE CHARLIE WENT, OH YES! A simple Co-incidence, or not? Lily still in house arrest well maybe anyway she said she gets it off in the fall which isnt very pacific.So what we know for sure is that 2 Characters will decide to stay in LA at the end of 501. And that someone is deffs pregnant. And that Dans book has great success, and also that Louis is still worried about Blair and Chuck, not that thats stopping them from planning the wedding. A fair few guest stars have also been thrown in including- Elizebeth Hurley, Brian J Smith, Roxane Mesquida [Just to name a few]
Remember to watch Gossip Girls Season 5 Premiere in September.
Speculation
Writers wouldnt Dair to Dair, at least not in the near-future :/
For Gossip Girl's Dan and Blair, it looks like quiet times ahead.
Penn Badgley might like to see more Dair, but there's "nothing really brewing" in the beginning of the season for the couple in the near future, according to E! Online.
Perhaps - and this is just us speculating - the show is going back to its roots a bit and laying the foundation for its eventual series finale, with Chuck and Blair and Dan and Serena getting back together. Again, pure speculation there. Nothing more.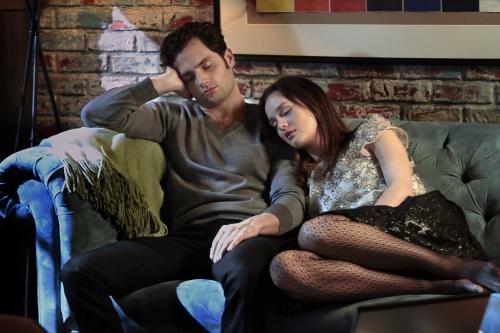 Dan, Serena in the future???
Penn Badgley says your guess is as good as his at this point.
"I have no idea," Penn told Entertainment Weekly. "[The writers] are always dropping little hints about what might happen in the future or the distant future with them."
In my opinion they were so cute, BRING them BACK writers!!