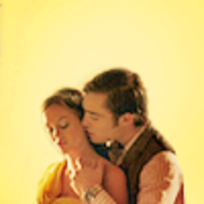 IamGossipGirl
(Updated: 5/07/10) Well all you need to know for now is that I absolutely, freaking LOVE  Gossip Girl. It is my favorite show of all time. I watch it every week, I am so obsessed its probably unhealthy! I've seen each episode so much I seriously can't even come up with a number, And that's probably because when I'm not watching a new Gossip Girl episode, I'm re-watching the old ones.

I am such a DEVOTED Gossip Girl fan! I will NEVER give up on it! Not because I feel I owe it to anyone but because for me the show HAS NEVER and will probably never do anything to make me stop loving it or stop being excited and passionate about it! I'm behind the show 100%.

I LOVE Gossip Girl.

I LOVE the writers (They can lie and put us through lots of anxiety but in the end they make the show what it is, and if you don't like that, why are you still watching the show?)

I LOVE The cast (Especially Leighton... and Ed... and Blake... AAAND Chace... but ESPECIALLY Leighton!) lol
I LOVE Chuck,Blair,Chair,Bluck, whatever you wanna call them! (And will NEVER stop shipping them!)

Wanna get to know me more? Check me out on Twitter & Youtube & Tumblr! Love you, my fellow GG FANS! ;)
Twitter: twitter.com/sabrinaisonline
Youtube: youtube.com/user/sabrinaisonline Tumblr: imgossipgirl.tumblr.com
 

 
Member Since:
8 Forum Posts
I was just coming to make a post about this. Glad someone else made one already! I'm voting pretty much throughout the day, whenever I get a chance. Keep voting people! :D <3
I think this is a really good SL. Some GG fans are just never satisfied, unfortunately. But I love the mystery of weather its Dan's baby or not! I know lots of people think it is, but I think more people think its not. I don't think it is Dan's baby. You could tell when Georgina was on GG at beginning of season 3 that clearly she's kind of obsessed with Dan. She's probably using the baby as a way to trap Dan into a life with her. Obviously the baby's real (probably) but I don't think its Dan's.
I want Dorota and Georgina in the same Mommy&Me group.
haha! That would be so funny! And then Dorota and Georgina could befriend each other which would make for some funny paranoid Blair scenes, no doubt! lol ;)
That is if anyone is even still discussing here? lol