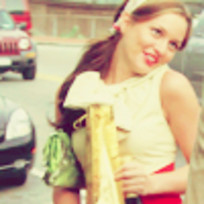 queenBforlife
Leighton Meester and Ed Westwick are my favorite actors ever. And i've been following Leighton as a artist. You know, she's actually not bad? Her music is a good go-to whenever i'm feeling a little wild. =] Blair and Chuck are my favorite characters ever. See the trend? xoxo
Member Since:
3 Forum Posts
Aum...haven't all of Blair's boyfriend, hell- EVERY person in a relationship on this show "fought" in a sense to get what they want(ed)? :s
They definately have. Especially Chuck who is always chasing Blair until she finally succumbs to love. Seriously, when has he not loved her? I think maybe Blair should be with Chuck, but separate business from pleasure and show the world that Chuck has a soul.
If it wasn't for the tension between her and Blair from the beginning of the series, she'd be flawless in my eyes.
Agreed, she really is a powerful woman with a great work ethic. Sure she hasn't been all that great to Blair in the past, but I think as a women solely she is very much a role model.
I really want Blair to be successful. She has done so much to get a good reputation but her scheming, her friends, and Chuck have always come in the way. Especially Yale.. she deserved to go there, but her scheming on that teacher ruined it. Shame. So now I want Blair to become as successful as Chuck is. Let's see if it can happen. Oh yea, and Anne Archibald is a judging little hypocrite.