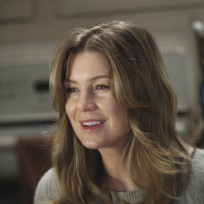 Dance It Out
Devoted fan of Grey's Anatomy and House.   Here are a few of my (many) favorite quotes from the show: "Maybe we aren't supposed to be happy. Maybe gratitude has nothing to do with joy. Maybe being grateful means recognizing what you have for what it is. Admiring the struggle it takes simply to be human. [...] At the end of the day, the fact that we have the courage to still be standing is reason enough to celebrate." -Meredith "Have some fire, be unstoppable, be a force of nature. Be better than anyone here and don't give a damn what anyone thinks. There are no teams here, no buddies. You're on your own. Be on your own." -Cristina "I'm fine. She's fine. We're fine people." -Cristina "Walk tall. All you can do is be brave enough to get out there. You fought, you loved, you lost. Walk tall." -Mark
Member Since:
93 Forum Posts
1) The Becoming (the first epi I ever saw, and still my all-time favorite--Cristina's speech about Burke was one of the most moving scenes in the series, and the gay soldiers' couple were amazing)
2) Time Warp--Bailey and her Nazi were hilarious, and the GRID/AIDS patient's case was so poignant. It made me understand Ellis and the Chief's relationship much better, too.
3) Into You Like a Train (that scene where Mer cries out, "what about her?" when they give up on Bonnie is heartbreaking)
4) Grandma Got Run Over by a Reindeer (I, too, am a huge fan of that scene at the end where Mer, Izzie, George and Doc are all lying under the Christmas tree. It really speaks to how incredible this show was in season 2, and how close their bond as roommates was. Even though I've loved the seasons after, there's something so heartwarming about season 2 that I miss very much).
5) What a Difference A Day Makes (I cried my heart out at Izzie's wedding)
6) Stairway to Heaven (Ellen Pompeo should have won an Emmy on the basis of that scene after the serial killer's execution)
7) Time Has Come Today (esp. the scene where Derek comes into the kitchen and tells Mer he's in love with her)
8) Six Days, parts 1 & 2--I just adore the O'Malley family, and the scenes between George and Harold, esp. looking back now that both are gone, are just so heart-wrenching. There was a sincerity and integrity about George that I dearly loved and miss so much
So, what is everyone doing to pass the time while in Grey's withdrawal? I have a hard time with it--I feel like something is missing in my life without House to look forward to on Mondays, and GA/PP on Thursdays. In the past, I've relied on reruns and making a long YouTube playlist from all the amazing songs on the show...what do you do? 
Likewise! I so look forward to the new episodes on Thursday nights. It's one of my favorite parts of the week. I guess the fact that one of the cable channels in my town shows three hours of Grey's reruns every night kind of makes up for that, though...it's now back to the pilot episode, which means for the next few months, I can watch the show straight through! It will be awesome.