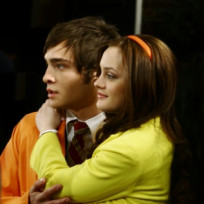 australiaa:)
pretty much glued to the tv when gossip girls on :) chuck <333 me and my bestfriend ebony are gonna marry chuck well i am :) im from AUSTRALIAAAAAAA so not quite up to where most of yous are. yous are so lucky :) well anyways everyone loves GG down here. its such a hit blair and chuck should be together FULLSTOP! or just put me on the show and i can be with chuck aye :) xoxo shanzahhlee
Member Since:
2 Forum Posts
nate and venessa.
dan and serena.
and last but not least.
BLAIR AND CHUCK.
they are meant for each other.
it would be ay if they didnt get together.
and im pretty sure most people think the same as i do.
so is there ever gonna be a "thing" between C & B?
i want answers PLEASE
:)
hey.
im from australia.
and i have been watching GG since the start.
i reallyy want blair and chuck to be together.
they should be it would be a hit.
i need answers is it gonna happen or not.
it would be great if it did :)
Want more ?
Sign up for our daily newsletter and receive the latest tv news delivered to your inbox for free!