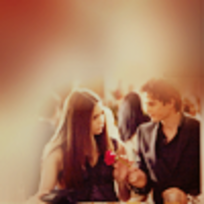 sierralim91
Gossip Girl used to be my first and favourite show... now, its been degraded, sadly. The Vampire Diaries is my #1 show now, followed by Supernatural, Merlin, GG, then Glee. Damon Salvatore and Dean Winchester are my most ultimately favourite characters ever. If I said I love them, its an understatement. Despite what has happened to GG, Chuck + Blair = STILL EPIC. Fullstop. No other couple can ever rival their chemistry and how exceptionally gorgeous they look together... EXCEPT maybe, Damon & Elena. But we'll see how that pans out. I vid Gossip Girl, The Vampire Diaries, Supernatural and other shows/movies on YT as well. You can find me here:
http://www.youtube.com/user/sierralim91
Cheers~
Member Since:
21 Forum Posts
yes, when they make it out like chair means nothing, and that "kiss" changed blair forever =/ gossip girl writers are the biggest fail ever
I ABSOLUTELY agree. The worst for me is that they are actually COMPARING Chuck/Blair and Dan/Blair. THERE IS NO COMPARISON THERE. The latter CAN'T EVEN COMPARE with the former FOR NUTS.
Because of anyone hasnt watched THAT promo yet... I'm feeling even WORSE now. UGH UGH UGH.
its not even about having hope for chair for me anymore, its about the fact they RUINED CHAIR, they LITERALLY be little them in the preview, it is disgusting
are you referring to the latest promo for 4x18?
Want more ?
Sign up for our daily newsletter and receive the latest tv news delivered to your inbox for free!