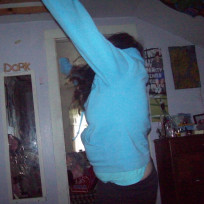 xhnx09x
You've got a smile that could light up this whole town. my name is hannah. and my life is music. singing it.writing it.listening to it I play varsity softball and varsity dance. I am veryy confident. I don't like people who pretend to not care. Showing emotion is everything. live out loud. regret never
Member Since:
9 Forum Posts
I agree with sophialeslie, I think Nate and Serena from the first episode have had great chemestry. And just because the show hasn't  yet decided to bring back that part of Gossip Girl doesn't mean it shouldn't happen.I think that saying the only reason we want them together is because their both attractive is kinda of pathetic because everyone on the show is attractive. Nate and Serena are just being teenagers right now and finding out what they want. And I think that the insane seperatation between them could ingnite a future for them. who knows?!
I don't think chair could ever be over. Its the core of the gossip girl right now.. and Blair has been through a lot with Chuck... there is no way this is any different. I think we know that Chuck will make his revenge after this mess. we have to wait and see :]
I'm wondering if gossip girl is gonna follow the students to college? and if not are we getting a whole new cast? or are they going to end the show earlier than expected? Gossip Girl goes to college would be very interesting!