Jack Donaghy Quotes (Page 37)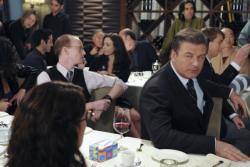 Season 1, Episode 7: "Tracy Does Conan"
Jack: Conan, Tracy's really excited to be back on your show.
Conan: I don't know. He's kind of a loose cannon, and I like to surround myself with people who don't try to stab me.
• Rating: Unrated
Season 1, Episode 6: "Jack Meets Dennis"
Jack: Gosh, I hope you got a picture of that with a camera on your beeper.
Dennis: Actually, my beeper doesn't have a camera; but it does have a pedometer. Actually, not this one.
• Rating: 4.5 / 5.0
Jack: You have to stuff your heart with steel wool and tin foil. You must be ruthless, you must be absolute. Remember always you are the exterminator, say it!
Liz: I am the exterminator!
Jack: Say it like you mean it!
Liz: I am the exterminator!
Jack: Louder!
Liz: [shouts] I am the exterminator!
Jack: Okay, not that loud. People are trying to work around here.
• Rating: Unrated
Jack: Lemon, today is the first day of the rest of your life; and what is the first thing you need to do?
Liz: I have to break up with Dennis.
Jack: And if you don't break up with him now?
Liz: He'll just keep showing up at work to sell beepers; we'll just get more and more tangled up in each other's lives 'till I can't even get away and we're just like... Oh, my God!
Jack: That's right! He's the Rat King. And there's only one way to break up with a rat, you have to cut him off completely.
• Rating: Unrated
Jack: So, how did it go.
Liz: He moved in with me.
Jack: Well, of course he did.
• Rating: 4.0 / 5.0
Liz: Okay, very funny. You bought a pager from Dennis. Will you take it off now, please?
Jack: Oh, I can't. I'm expecting a call from 1983.
• Rating: 5.0 / 5.0
Dennis: You know there are 17 million rats per person in Manhattan. You eat a pound of rat crap every year without even knowing it, huh?
Jack: I think I read about that in The New Yorker... Um, anyway, we'll leave you two to your meal. I hope you enjoy the choices that you've made.
• Rating: Unrated
Jack: That's a sharp tie you've got there, Dennis.
Dennis: That douchebag up front made me wear it.
Jack: Does he know you're the Beeper King?
Dennis: I don't think so.
• Rating: 5.0 / 5.0
Season 1, Episode 5: "Jack-Tor"
Liz: Oh you should do it. It will be hilarious.
Jack: Well, that will be a refreshing change of pace for the show, won't it?
• Rating: Unrated
Jack: Lemon, I don't know how to do this.
Liz: I know.
Jack: I don't get it. It's not the fear. I thrive on fear.
Liz: Yeah, you're lookin' out a fake window right now, by the way.
Jack: I bow hunt polar bear. I once drove a rental car into the Hudson to practice escaping. And it's not the public speaking, there's just something about performing I can't wrap my brain around. All this creative crap. Acting. Ahhh. I've never been able to do it. Never.
• Rating: 5.0 / 5.0
Are we missing your favorite quote from "?" Submit it here and get points for adding quotes!
Total Quotes: 384