One Tree Hill Season 7 Quotes (Page 7)
Julian: Vicki, Brooke didn't tell me you were coming to the show.
Victoria: Think of me as Millie's training wheels. And don't ever call me Vicki.
• Rating: Unrated
Jamie: Why is she lying?
Nathan: Because bad people forget the difference between right and wrong, and they like to take advantage of good people.
• Rating: Unrated
Nathan: Putting my son to work?
Brooke: Absolutely! Clothes Over Bros has a long history of child labor.
• Rating: Unrated
Victoria: Oh, so you're the has-been actress we're overpaying?
Alex: Oh I've heard about you. You're the mean bitch who used to be a big deal here, but you're not here anymore, so now you're just a mean bitch!
• Rating: Unrated
Mouth's Boss: Remember when I asked you if there was anything going on with Nathan Scott?
Mouth: The National Informer? Are you serious? Uh-oh look, alien babies on the rise. Looks like they duped us on that one too!
• Rating: Unrated
Kid on the Playground: My mom says they only put stuff in these magazines that's true! Your dad is hosed!
Jamie: He is not
• Rating: Unrated
Clay: Okay, even though it's incredibly riveting watching you lift weights, I'm gonna go. What time are you going to the fashion show?
Nathan: I don't know. You really want to go?
Clay: Do I want to go to a fashion show with tons of models walking around in dresses? Dude, I'm getting there early.
• Rating: Unrated
Haley: Millie, strip down. Chop! Chop!
• Rating: Unrated
Alexis: I saw her swallow a handful of pills. She's such a cliche.
• Rating: Unrated
Alex: I like to leave [the shower] on. I like the sound of the rain.
• Rating: Unrated
Haley: I get it, you got married in high school, had a son at graduation, and now you play basketball and take pictures with drunken sluts with perfect teeth
• Rating: 3.0 / 5.0
Alex: I can be in your bed in 20 minutes.
Clay: Make it 30.
• Rating: Unrated
Alex: He has big hands... he probably has a big thingy!
• Rating: Unrated
Brooke: I love you. You know that? I love who you are. I don't know how you got there, but I'm glad you did.
Julian: I'm glad I did, too, 'cause you're here with me.
• Rating: Unrated
Miranda: Why did Peyton start this label, anyway? You said it was personal.
Haley: She thought that major labels were soulless.
Miranda: We are. Don't forget it.

• Rating: Unrated
Paul: Brooke. You wanted to speak with me?
Brooke: You know, my whole life, I wanted to get my mother to be proud of me. And then one night, Julian threatened to exile her from our lives, and I would do the same to you. I'm just not sure it would matter.
Paul: You're upset.
Brooke: I have this poster hanging in my living room, Paul. Of course I'm upset. And the only reason that it's hanging there is because you took him to see that movie, and for one day that boy felt close to his father. He felt loved and appreciated. And the sad part is that there was only one of those days. Because in my book, the day that he didn't feel that way should be the unique one. Fix it.
• Rating: 5.0 / 5.0
Haley: Who's the bitch now, bitch?
• Rating: 5.0 / 5.0
Clay: I'm going to see if she'll sit down with me again. In the meantime you just, ummm, try not to get thrown through a window.
• Rating: Unrated
Alex: Wine's not even alcohol. It's like, grape.
• Rating: 4.0 / 5.0
Season 7 Episode 1: "4:30 AM (Apparently They Were Travelling Abroad)"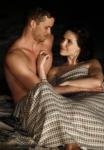 Dan: Forgiveness is never easy. Bitterness is easy. Hatred is easy. But forgiveness, that's a tough one. Sometimes, people say things they don't mean or do things they can't take back. Sometimes we do things we can't take back. So we feed ourselves to starve the pain.
• Rating: 5.0 / 5.0
Are we missing your favorite "One Tree Hill" quote? Submit it here and get points for adding quotes!
Total Season 7 Quotes: 152
Total One Tree Hill Quotes: 1213