TV Fanatic Works Better with Prime Instant Video
Watch Arrow Online
All the cool kids watch Arrow online. There are two full seasons available for your viewing pleasure with plenty of options for your streaming needs.
Watch Arrow Season 2 Episode 21
"City of Blood"
Original Air Date:
Oliver decides to surrender to Slade rather than allow him to take away everything he loves.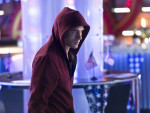 Watch Arrow Season 2 Episode 19
"The Man Under the Hood"
Original Air Date:
Oliver, Canary, Diggle and Felicity find Slade waiting for them in the Arrow lair. After an epic battle, a member of Team Arrow ends up in the hospital.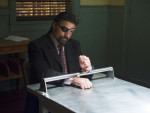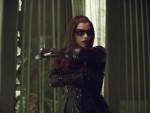 Watch Arrow Season 2 Episode 16
"Suicide Squad"
Original Air Date:
Amanda Waller sends the Suicide Squad out on their first mission and asks Diggle to assist to help stop a warlord.
Watch Arrow Season 2 Episode 15
"The Promise"
Original Air Date:
On the island, Oliver, Sara and Slade prepare to overtake the freighter from Ivo while back in Starling City Oliver is shocked to learn Slade is alive and in town.
Watch Arrow Season 2 Episode 14
"Time of Death"
Original Air Date:
When Oliver and Diggle spar with Sara and tallk about old scars, Felicity starts to feel left out.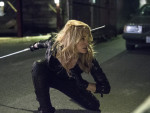 Watch Arrow Season 2 Episode 13
"Heir to the Demon"
Original Air Date:
Oliver and Lance try to get Sara to stay and help Laurel who continues to unravel but will the League of Assasins bring her back into the fold on Arrow.
You want to watch Arrow online. Arrow stars Stephen Amell (Oliver Queen), David Ramsey (John Diggle), Katie Cassidy (Laurel Lance), Emily Bett-Rickards (Felicity Smoak), Willa Holland (Thea Queen), Paul Blackthorne (Det. Quentin Lance), Colton Haynes (Roy Harper), John Barrowman (Malcolm Merlyn), Caity Lotz (Sara Lance) and a host of others. The series revolves around Oliver Queen and his superhero ways as The Arrow (or The Hood dependent upon the season) and other superheroes and villains in Starling City. The Canary, The Huntress, The Bronze Tiger, Deathstroke, Deadshot and the League of Assassins among other keywords litter the scripts. There is plenty of action, some romance, friendships and bitter enemy relationships as the battle of good versus evil plays out in Starling City. When you watch Arrow online you'll get to see one of the very best adaptations of a comic book series to television ever created. You'll find out who lives and who dies and you'll be able to connect with everyone else across the world who has come to the realization that they cannot live without Arrow. Stephen Amell embodies Oliver Queen. You'll never accept another after you see him in action. Watch Arrow online now!