Dancing With the Stars Season 7 Episode
703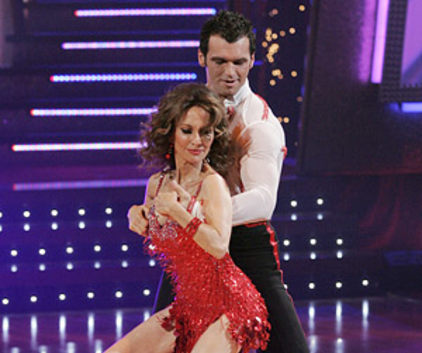 Recap
Did the absence of Jeffrey Ross and Ted McGinley make for improved scores this week? Let's recap the third performance of season seven of Dancing with the Stars, couple-by-couple...
Toni Braxton & Alec Mazo (Rumba) Len said he was surprised how good that performance was. It lacked a bit of fluidity, but very good. Bruno said Toni captured the sensuality and vulnerability of a reluctant mistress, and cautioned her on her transitions. Carrie Ann thought that Toni danced like she sings, but she did point out that there were two lifts. I hope we're not starting that nonsense again. Score: 23 (7,8,8)

Brooke Burke & Derek Hough (Paso Doble) Carrie Ann thought Brooke's lines were gorgeous, but added that the pair of them were off balance. Len thought they portrayed the aggression very well. It wasn't over the top. There was a little bit too much messing about in the choreography, but he liked it. Bruno said there were moments of breathtaking artistry and that Brooke is born to dance. Score: 24 (8,8,8)

Rocco Dispirito & Karina Smirnoff (Rumba) Bruno said Rocco was just standing there. It just didn't happen. Carrie Ann was sad because Rocco has passion, but he's lacking musicality. And that makes it hard with the rumba. Len said there was more tears than cheers about the whole thing. Keeping with the chef theme, he said the performance wasn't really tasty. Score: 16 (5,6,5)

Lance Bass & Lacey Schwimmer (Paso Doble) Len said he knows Lacey's game and he knows her brain. He said chucking in a couple moves to keep the old bloke happy doesn't work. Carrie Ann thought it was witty and she liked the song choice. She loved that they took a big risk and went for it, adding that she hasn't seen anything like that. Bruno said they are always thrilling to watch, but in the paso doble you have to keep the style going. Score: 20 (7,6,7)

Kim Kardashian & Mark Ballas (Rumba) Len was disappointed because she has so much potential. His expectations are that she will be good, but she's so cold. He added something crazy about how she has all the gear in the rear. Carrie Ann feels like she has seen the same dance three times now and suggested Kim watch the dance back on tape. Score: 17 (6,6,5)

Misty May-Treanor & Maksim Chmerkovskiy (Paso Doble) Carrie Ann said that Maks gave Misty a very hard routine and finished by bringing up the shoulders again. Bruno compared Misty to Xena: Warrior Princess. He loved her energy and told her to work on the light and shade of her performance. She needs finesse. Len thought it was a good attempt at the paso doble. He called it great choreography, but told Misty that she lost the connection to the audience. Score: 21 (7,7,7)

Maurice Greene & Cheryl Burke (Rumba) Len thought Maurice talked the talk, but he didn't do the dance. He lacked finesse throughout. Not bad. Carrie Ann said Maurice looks like there is an explosion about to happen, but he was too stiff this time and it just never got to that level. Bruno expected Maurice to be smooth and slinky, but instead he was robotic and clunky. Score: 19 (7,6,6)

Cloris Leachman & Corky Ballas (Paso Doble) Bruno called their performance surreal. Len said it was a lovely traditional dance to traditional music and called it a great attempt at a difficult dance. Carrie Ann said she hopes that when she's 82 she's half the woman Cloris is. She tried to avoid commenting about the dance, because she wanted to keep it happy. Score: 15 (5,5,5)

Susan Lucci & Tony Dovolani (Rumba) Carrie Ann said Susan transported them to another place. Bruno thought it was a very good rumba, but Susan still dances like the virgin queen. She needs to throw herself into it. Len didn't like it when Tony exposed himself, joking that it put him off a bit. He went on, noting that the rumba is an actors dance. You have to act the part, and that's what Susan did. Score: 21 (7,7,7)

Warren Sapp & Kym Johnson (Paso Doble) Len thought it had a lovely, dark, menacing feel to it and he really liked the opening. He called it an intense paso doble. Carrie Ann said Warren is the paso doble killer. Fantastic. Bruno thought the performance was big, bold, and heroic. He praised Warrens quick footwork with the music, saying that for a guy of Warren's size, the way he moves his feet is fabulous. Score: 24 (8,8,8)

Cody Linley & Julianne Hough (Rumba) Bruno called Cody a kid in a candy store, but reminded him again that he has to learn control. The tools are there, but he has to focus. Len thought it lacked a bit of polish and finesse, but called it well done. Carrie Ann thought it was very age appropriate, and liked it. Score 21 (7,7,7)
Show:

Season:

Episode Number:
Want more Dancing With the Stars?
Sign up for our daily newsletter and receive the latest tv news delivered to your inbox for free!