Extant Episode Guide
Molly gets closer to finding her offspring and Sparks commits to doing whatever it takes to keep it alive to maintain the visions of his dead daughter.
When Sparks falls under the influence of the vision of his deceased daughter, he flees with Molly's baby to a remote location.
When Molly finds her baby is alive, she forms a plan with Kern and Kryger to get him.
Molly believes the agency has her baby and is determined to find out where on Extant.
Molly finds information that may explain why she was chosen for the solo mission on Extant.
John begins to doubt Molly's mental state when Molly's pregnancy is called into question on Extant.
When Sparks wants to quarantine Molly, she and her family head to a remote island with her estranged father on Extant.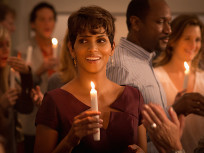 Molly decides she has to tell John about her pregnancy when he calls her on being so distant on Extant.
When Sam gives Molly an ultrasound she learns new details about her mysterious pregnancy on Extant.
Astronaut Molly Woods returns to her family after a 13-month solo space mission, only to find out she's pregnant on Extant.