Lost (Page 5)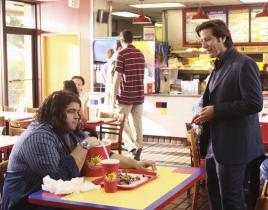 We're still reeling from this week's Lost episode. What is the show truly about? What is going on with the Sideways world? We got many clues in "Happily Ev...
What happened, happened. So stated Eloise to Desmond, casually, on this week's episode of Lost. In our review of "Happily Ever After," we offered a general...
… heaven on Earth. Correction: a misguided version of heaven on Earth. More on this below… One week ago, following "The Package," this is wha...

The last time Lost fans saw Desmond Hume, on the season six premiere, he left them with a question: Might this character be the link between current events...
"The Package" was delivered this week on Lost. Our writers debate its significance in this week's Round Table as well as some of the other salient po...
Though "The Package" was primarily focused on the Kwons, the episode did a great job of providing us with a lot of great lines from the other characters, a...

Monday, we told you about an item posted by EW regarding a character's "shocking" pregnancy being revealed on the upcoming season finale of one popular, ho...
On a podcast this week, Lost producers Carlton Cuse and Damon Lindeloff revealed the apt title for the show's series finale on May 23. It will be called, s...
While many fans think Nestor Carbonell should be clearing off room on his mantel for an Emmy Award, following this week's "Ab Aeterno," the actor took time...
We're still recovering from everything that happened on this week's Richard-centric episode of Lost. But ABC isn't taking any weeks off with the show, so i...