Mad Men (Page 2)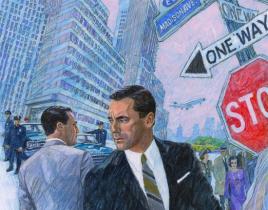 AMC doubles down on Don Draper in the first poster for Mad Men Season 6. Following a mysterious promo that teased the two-hour April 7 premiere as an "affa...
AMC has released the first trailer for Mad Men Season 6. And while the black-and-white promo doesn't reveal any upcoming footage from the award-winning dra...
With work that includes Jimmy Barrett from Mad Men, Phil from Lost, Detective Kenny No-Gun on Southland, and even more recently, Gabriel on Californication...
AMC has announced the premiere date for Mad Men Season 6: It will return to the air with a special-two hour episode at 9 p.m. on Sunday, April 7. Meanwhile...
Will Peggy return to Mad Men? Will Don cheat on Megan? A number of questions surround Season 6 of this AMC drama, but we never thought we'd be asking this ...
Let's get right down to it: Elisabeth Moss will play a role on Mad Men Season 6. With fans wondering about the status of Moss' Peggy Olson, following her e...
The look. That's how Mad Men Season 5 concluded, with Don Draper alone at a bar, approached by a woman, asked about his status and no longer the happily ma...
Nobody died. The company stayed in tact. There really weren't any serious surprises at all. While the season five finale of Mad Men was a conclusion ...

SPOILER WARNING: Stop reading now if you have not yet watched last night's stunning episode of Mad Men. Jared Harris minces no words when discussing the fi...
Yes, that really did just happen on Mad Men last night. The series known for its slow simmer of character build-up and storytelling followed up Joan's bedr...