TV Fanatic Works Better with Prime Instant Video
Watch Sons of Anarchy Online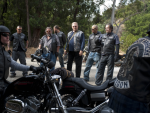 Watch Sons of Anarchy Season 3 Episode 2
"Oiled"
Original Air Date:
Jax and the club help a bounty hunter track someone down to get info on Abel's whereabouts. At Half-Sack's wake, the club press for answers the SAMCRO way.
Watch Sons of Anarchy Season 3 Episode 1
"So"
Original Air Date:
Abel's kidnapping has left the Sons reeling, especially Jax, whose grief sends him into even deeper turmoil about his future with the MC.