Survivor Episode Guide
Does Brandon really want to keep his secret to Coach? He wrestles with that question this week.
Survivor: South Pacific kicks off its season this week. Who will be the first to go?
Survivor: Redemption Island comes to a close with a dramatic two-hour season finale. A contestant from Redemption Island rejoins the game and a winner is crowned.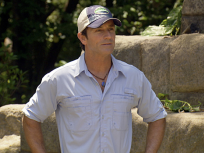 A difficult choice faces the five remaining Murlonio tribe members on this week's episode.
With just six players remaining, the castaways inch closer towards the dramatic finish.
The remaining members of the Murlonio tribe are confused by an unexpected package at tree mail.
Tensions rise between Steve and Philip on the next episode of Survivor: Redemption Island.
The castaways are surprised to learn of a double tribal council that sends two players to Redemption Island.
The tribes get set to merge in this week's episode of Survivor: Redemption Island.
It's a tough week for the contestants on Survivor. Everyone appears to be suffering from mental fatigue.