TV Fanatic Works Better with Prime Instant Video
Watch Survivor Season 25 Online
Watch Survivor Season 25 full episodes online, free and paid options via our partners and affiliates.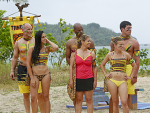 Watch Survivor Season 25 Episode 1
"Survivor Smacked Me in the Chops"
Original Air Date:
On the season premiere of Survivor: Philippines, 18 castaways are split into three tribes on the Caramoan Islands in the Philippines. Three former castaways who were once evacuated for medical reasons are back this season.