The Leftovers Episode Guide
Kevin faces a holiday display snafu and a surprise visitor at home on The Leftovers.
This episode of The Leftover centers on Reverend Matt Jamison. We learn a lot more about the character.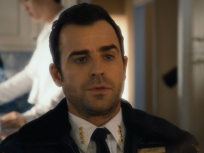 Kevin is forced to meet with a therapist after the dogs incident.
The Leftovers tells the story of those left behind after a mysterious event takes away two percent of the globe's population.