TV Listings (Page 2)
Out of respect for the victims of the Boston Marathon bombing, ABC has pushed back next week's episode of Castle until April 29. Titled "Still," the instal...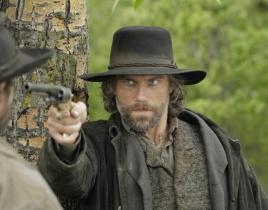 AMC has announced the premiere date for Hells on Wheels Season 3: this drama will return on August 3 at 9/8c. Yes, readers, that's a Saturday. The Anson Mo...
Devious Maids will soon be coming to a living room near you. The Lifetime drama - produced by Marc Cherry and Eva Longoria and starring Ana Ortiz, Dania Ra...
USA Network has announced its summer premiere schedule, which will include a couple TV Fanatic favorites and a promising new series. Scroll down now and se...
Set your summer vacations accordingly, TV Fanatics: a pair of cable dramas have released premiere dates. True Blood Season 6 will kick off on June 16 at 9 ...
Days prior to the Justified Season 4 finale, FX has given fans of this outstanding drama a reason to celebrate: It has been renewed for a fifth season. The...
TNT has unveiled its summer premiere schedule, which includes four new shows and five returning favorites. Plan your vacations and DVRs accordingly and scr...
ABC has become the final network to unveil its season finale calendar. Follow these links to learn when NBC, The CW and CBS and Fox programs will be farewe...
Set your DVR and plan accordingly, all three NBC fans out there. The network has released the following season finale air dates for a couple comedies, a fe...
The fat lady may not officially be singing, but NBC has made its voice as clear as possible: Smash has been effectively canceled. The network announced thi...