Abed Videos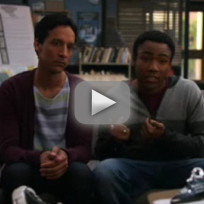 Added:
Displaying 1 video
Around the Web
Want more Community?
Sign up for our daily newsletter and receive the latest tv news delivered to your inbox for free!
Annie: The midterm dance will need a visual theme. Like, 'Let's blow off steam,' and it's trains!
Chang: I have an idea!
Annie: Chang, your last idea was to murder.
Girls are supposed to dance. That's why God gave them parts that jiggle.

Troy