TV Fanatic Works Better with Prime Instant Video
40,000 other titles are available to watch now.
Brothers & Sisters Season 4 Episode 10: "Nearlyweds" Videos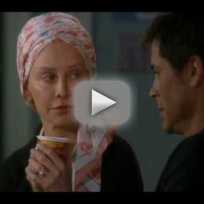 Added:
Displaying 1 video
Around the Web
Want more Brothers & Sisters?
Sign up for our daily newsletter and receive the latest tv news delivered to your inbox for free!
See, it's this. It's just sitting here together, in a waiting room. Both of us trying to pretend we're not scared, that's love. Not being able to concentrate on writing a speech about the beauty of love because you're scared you might lose it and nothing will ever be the same. And realizing that the one place, the ONE place, that you feel most "you" is when you are lying next to her, just breathing.

Robert
My piggies are actually piggies.

Kitty